Welcome to

"....the goal of our instruction is love from a pure heart and a good conscience and a sincere faith."

1Timothy 1:5
Carmel United Methodist Preschool has had the privilege of providing a high quality preschool experience for the families of Carmel and surrounding communities for over 45 years. Our goal is to create and nurture a love for learning in a joyful, safe, Christ-centered environment.
Our teachers and staff work in collaboration to create learning activities that are developmentally appropriate and play based according to the educational standards set by the Department of Education. Our students enjoy learning through inquiry based play, while interacting with their peers to create positive emotional and social learning experiences.
---
Registration Party

January 16, 2019
5:30pm to 7:00pm
Register for the 2019-2020 school year
Bring the family and enjoy Food, Games, and Music!
Registration Fee and Supply Fee will be required.
Cash and checks Accepted-No Credit cards.
Current Preschool families will have priority.
Tours will not be given at this time. Please schedule by calling the office.
---
We encourage prospective families to schedule a tour to better determine if one of our programs is the best fit for your child. We offer many options to better accommodate your schedule and preschooler's needs.
Bunnies Class: This socially concentrated class is designed for our youngest preschoolers who are 18 months of age by September 1st. Our Bunnies enjoy singing, dancing, and playing with their peers in a fun, high energy environment. The Bunnies join us twice a week for fun with their friends.
Ducks Class: Our Ducks class is a play based, social environment for our preschoolers who are 2 years old before September 1st. Our Ducks enjoy learning and playing together as they explore letters, numbers, shapes, and colors though multi-sensory, exploratory based activities. We offer two day programs for our Ducks students.
Lambs Class: This transitional class is designed for our oldest 2 year old students, who are looking for a three day program and our youngest 3 year old students. Students in this class turn 3 before December 1st and are not required to be potty trained. Our Lambs learn, play, and grow together, as they explore activities with both a social and academic focus that is exciting and developmentally appropriate for their age.
3s Classes: We offer both a two day and a three day program for our students who are 3 before September 1st. Our energetic 3s classes, enjoy time to learn both through gross motor and fine motor play, as they continue to work towards those social, emotional, and academic skills that are developmentally appropriate for their age. All students in the 3s and older classes are required to be fully potty trained.
4s Classes: Our 4s program is designed for those students who are 4 years of age before September 1st. We offer a four day as well as a five day program for this age group. Our 4s explore and grow together as they work on the skills that will prepare them for a successful elementary school experience.
Alternative Kindergarten: This program is designed for children who are 5 years of age before September 1st. Our Alternative Kindergarten is not intended to replace kindergarten but provide an additional year for students to prepare in confidence before going to kindergarten. This class works on social and academic skills which are designed to give your child an extra boost before starting their elementary school experience.
---
Registration Fee/Supply Fee/Monthly Tuition
Registration fee (1)and supply fee(2) are non-Refundable and due at time of Registration.
Tuition(3) is paid for nine months.
Students must be age by September 1st.
All Classes are from 9:00am to 1:00pm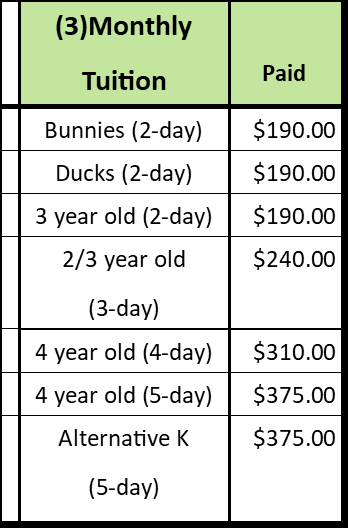 DOWNLOAD PRESCHOOL REGISTRATION FORM HERE
---
For additional information or a tour of our school, please contact:
Preschool Office @ 317-844-1958
Director: Tiffany Lehman
Admin. Coordinator: Nicole Todd
---